I went to New York when I was about 11 or 12 years old. It was winter time it was snowing hard. We spent Christmas time there and New Years eve.It was a good times. I spent time with my family.Plus, my grandma,grandpa were there from El Salvador. There's a lot of family.Like 10-15 cousins. We got a lot of presents. We also did a bunch of fun stuff. We went to Manhattan, New Jersey, Brooklyn, long island. We came back for the New Year.
Powered by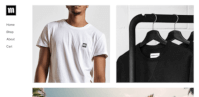 Create your own unique website with customizable templates.

Traveling the world everyday and napping when I can ???